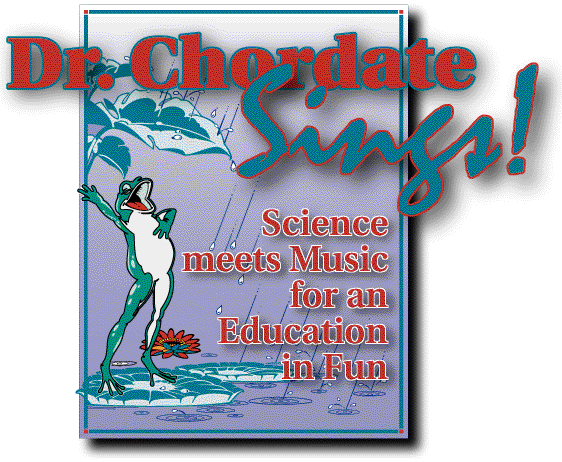 ---
List of Resources for Music (other than the products available from Dr. Chordate) and Humor in the Science Classroom. Please check the Products and Programs page for a large selection of science music available from Dr. Chordate.
Earth and Space Science
AstroCapella 2.0: A Musical Exploration of the Universe a new enhanced CD by The Chromatics contains 13 songs about the solar system, plus movies, activities, etc. The rocking, high-energy, professionally recorded and produced songs cover topics in astronomy. Check one or the other of their web sites: The Chromatics or Astrocapella. NASA engineers and allies with too little to do?
Beth's Rock Collection Beth Cook, a high school science teacher from Blue Springs, Missouri, has some excellent songs that she uses in her earth science classes.
Rocks and Water Songs and other materials by Canadian folk singer Chris Rawlings.
Rock 'n' Soil songs by Francis D. Hole (is this a made up name for an earth science teacher, or what?) and students at R. M. Teitelman School, Cape May NJ.

---

Life Science

The Biochemists' Songbook by Harold Baum. This book of 13 songs, published by Pergamon Press, first came out in 1982. (I understand that a later edition has 19 songs, but I only have the earlier edition myself.) The singer on the accompanying tape is Gary Bond (former rock musician and star of the Broadway musicals "Joseph" and "Evita"). The lyrics are set to some popular and/or classical tunes: for example, Waltz Round the Cycle (Waltzing Matilda), Battle Hymn of the Aerobes, Beta Oxidation (There's a Tavern in the Town), and so on. It may be hard to find, and it's not for everyone, but the songs do illustrate some heavy duty biochemical points.
Biology Songs Page by a biology teacher from West Hills High in Santee CA.
Some nice brain and neuroscience songs set to recognizable melodies can be found at Brain Songs

---

Physical Science

Chemistry Songs. These are set generally to Christmas carols or other familiar tunes. Chemistry Songs
Chemistry, the Songs of Our Lives with video of students performing their original songs.
Gonnick, Larry, and Art Huffman. The Cartoon Guide to Physics.
Les Horribles Cernettes a group that describes themselves as the "one and only high energy rock band". Those scientists at CERN need a little more to do.
Lynda Jones, SingSmart Creative Musical Curriculum has produced a number of excellent chemistry songs along with related curricular materials. This is the BEST stuff for supplementing chemistry learning!
Musical Chemistry, including organic oratorios, copper complex karaoke, and others. Check out the sites of a couple of Brits: Chris Downey and Musical Chemistry . You won't be disappointed.
Offut, Michael. Excellent CDs of chemistry and physics songs for older youth. Available from Dr. Chordate--see the Notochords: Products and Programs at this site.
The Physics Chanteuse I have not seen this lady perform, but her web site makes her sound extremely interesting! You have to check her out!
Physics Humor on the Web A large collection of physics humor (some of which don't seem particularly funny, but then humor is an intellectual experience, and maybe I just don't understand). And a page of songs.

---

Technology

Computer Songs and Poems.
Edwin's Songs Mostly about computers.
Songs of Science and Technology A site from Norway (but the words are in English).

---

General Resources

AIMS. Based in Fresno CA, these folks give workshops on science and math education, including using music and humor!, and lots of hands on activities.

Annals of Improbable Research AIR. Journal published bi-monthly. P.O. Box 380853, Cambridge MA 02238. A monthly electronic version (mini-AIR) is available free at LISTPROC@AIR.HARVARD.EDU.
Asimov, I. 1971. Treasury of Humor: A Lifetime Collection of Favorite Jokes, Anecdotes, and Notes on How to Tell Them and Why.
Bill Nye, the Science Guy. Syndicated Disney children's science program.
Bungee Jumping Cows This group has some pretty good (and some pretty weird!) songs. But sometimes in education, the weirder, the better. Anyway, I have their Rock Candy CD, and they sound like they do a fun show.
Greg Crowther There are some pretty good original songs about a wide range of scientific topics (and others) at this site. Greg has also put together MASSIVE, a large collection (2000 songs) of sound files and other info from many science songsters, organized by subject and artist so that you can search and find just exactly the science song you need for whatever purpose.
Science Songs for Teaching Life and Physical Sciences, by Kathleen Carroll has many excellent elementary level songs along with curricular material for teachers.
Hill, D.J. 1988. Humor in the Classroom: A Handbook for Teachers and other Entertainers.
The Humor Project directed by Dr. Joel Goodman. The mailing address is: 480 Broadway, Suite 210, Saratoga Springs, NY 12866. Publishes Laughing Matters magazine.
International Society for Humor Studies. Don Nilsen, Executive Secretary. English Department, Arizona State University, Tempe AZ 85287.
Larson, Gary. Far Side cartoons.
Learning Lyrics This site has lots of information and products that encourage learning subject matter through songs.
Lori's Mishmash Humor Page. This site has some science jokes. Lori's Page
National Association for the Humor Impaired, 400 South 15th Street, Suite 201, La Crosse WI 54601.
Newton's Apple. PBS science program for older youth.
Random FactorsThis site has lots of music that's just off the main stream, but they have some science oriented products. Ask them for the Notochords tape.
The Notochords and Dr. Chordate (that's where you are now!). Tapes of science songs for older youth. Contact Dr. Jeff Moran at The Master Wordworks, 2071 County Road 246, Fulton MO 65251 scimusic@tranquility.net.
Science Explosion! These are three guys from Detroit area that have performed for several hundred thousand kids over the last several years. They put on a good show of music and magic, plus talk about multiple intelligences, etc. They also have a new double CD that has 50 songs addressing the National Science Education Standards. Their email address is: sciexplo@aol.com and website is: Science Explosion.
Science in Song music by a middle school science teacher in Cobb County, Georgia.
Science Humor, Science Humor, and Science Humor--all have jokes including quotes from kids about science and what NOT to say at your dissertation defense.
Science Humor, Satire, and Parody.
Science jokes. This site has a lot of science jokes (duh!). science jokes
Science Songs This site has all the lyrics and MP3 files of songs from a series of albums from the late 50s and early 60s: Space Songs, Energy and Motion Songs, Weather Songs, Experiment Songs, Nature Songs, and More Nature Songs. I have a couple of the lyrics on my Some Song Lyrics page. They are great!
Teachin' Tunes a site with elementary songs about many topics, including science, and a rationale for using music in non-music classes.
Weller, T. Science Made Stupid: How to Discomprehend the World Around Us.
List of Environmental Music Resources
There are many performers throughout the U.S. who sing "environmental music", and may list "science" as a key word identifying their web site. Frequently, "environmental music" involves ethics more than it does real science. And ethics are fineŅor at least good ethics are fine. Often, however, these songs are short on science as they tend to anthropomorphize etc. Nonetheless, many of these songs are appropriate for kids, particularly younger ones, and they may stimulate an interest in understanding the environment and in science. Thus I have compiled a short list of some of those singers here:
Billy B. A performer of environmental music in the Washington DC area, with tapes and videos, etc.
Rachel Buchman. From Houston, performs all over the country. mail (713) 661-6051
Earth Mama From Nashville. mail (615) 370-4032
**Environmental Education Songs This site out of Whitehorse, Yukon, Canada, has lots of information, resources, and links about using music in environmental education.
Tony Garcia From Massachusetts, performs in New England. mail (508) 248-6439.
Bonnie Lockhart, from Oakland CA, performs mostly on the west coast. mail (510) 451-2005
Pamlico Joe (Jim Swinson). From North Carolina. mail (310) 729-6182
Prairie Orchid From Mt. Vernon OH. info@lindabook.com (740) 392-4955.
**Songs about John Muir music devoted to one of the heroes of the environment.
Two of a Kind. From Philadelphia, performs mostly in the northeast and midwest. mail (215) 248-2334.
VINCENT. Performs in the northeast. mail (716) 377-0557.
Walkin' Jim Stoltz He is from Big Sky, Montana, but has walked nearly 25,000 miles through America's natural wonderlands. mail (406) 995-4906.
Zucchini Brothers From Saratoga Springs NY.
John Taylor is an elementary teacher in Florida who recently recorded a couple of album of great environmental songs (available here from Dr. Chordate--see the Notochords: Products and Programs or check out his web site at Singin' Songs

This is an incomplete list, and certainly does not include people like Tom Chapin and Tom Paxton (who don't need what little help I can offer here). There are dozens of other environmental troubadors, and if anybody knows some that should be included on this list, please bring them to my attention. Also, search the Children's Music Web (below).
---
Large list of Children's Music sites: Children's Music Web
---
Table of Contents