...
...
...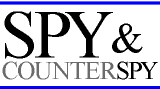 How to set up and use
a dead-letter box...
This article describes how deep-cover agents pass messages, documents, money, weapons, and other material between each other – without compromising their security. Neither agent knows the identity of the other. Nor do the authorities know what's going on.
The method described in this article has been used by foreign intelligence agencies and underground groups to thwart the counterintelligence and counterespionage sections of the FBI.
What is a DLB? DLB is an acronym for dead-letter box. It is also called a dead drop. A DLB is a physical location where material is covertly placed for another person to collect without direct contact between the parties.
Good locations for dead-letter boxes are nooks and crannies in public buildings, niches in brick walls, in and around public trash receptacles, in and around trees and shrubs, a third-party's mail box, between books in a public library, inside the paper towel dispenser of restaurant washrooms, and so on. The key to success is ingenuity. If the item being passed can be disguised as a discarded candy wrapper or hidden inside a cigarette butt, etc., so much the better.
DLB Protocol. The method described in this article was originally devised and perfected by the KGB for use in Britain and the USA during the cold war. But the technique is so effective it's still in use today – and is used by more than 30 intelligence agencies and underground groups worldwide.
When used by two people who have basic skills in countersurveillance, this method will confound an FBI surveillance team – as demonstrated by the FBI's inept handling of the cases involving Aldrich Ames, Jonathan Pollard, and John Walker Jr.
Tradecraft. You need to know three pieces of tradecraft to make this technique work.
Trick #1 – Pick a good site for your DLB. This means choosing a spot where you're momentarily hidden from view while you pass by (and either load or empty the box). It also means selecting a site that is easily accessible and in a public location.
Trick #2 – Use a separate set of sites to signal to your opposite number that you're ready to place something in the DLB, or retrieve something from the DLB.
Trick #3 – Use a foolproof signal that tells both parties that the material in the site has been picked up. This guarantees that the first agent can go back and recover the items if the second agent is unable to make the pickup for some reason.
---