...
Tuition. All our workshops are structured on a pay-as-you-learn basis. You take no risk. We teach you first before asking for your tuition. The fees we collect are used to finance our ongoing campaign against government tyranny in America.
You'll attend three workshops over Saturday and Sunday. Your tuition of $200.00 is payable at the end of each workshop. Your cost for the full weekend is $600.00.
US dollars. The printed manual is extra. Transportation, accommodation, meals are your responsibility.
Can't attend? Order the toolkit. This is the same printed manual that participants use at the workshops. It is an illustrated learning guide, a study resource, and a review aid. It is a manual for today's American urban guerrilla.
If you can't attend the workshops, reading the manual is not the same as being here, but it's the next best thing. Practical content with rugged cover and binding. Study it at your desk or carry it with you. Just $150.00 each. Delivered by regular mail or next-day courier. Vickie sends these out the week after the workshop. Attendees pick up their manuals when they arrive at the workshop.
Act now. Supplies are limited. Requests for the manual are filled on a first-come first-served basis. Act now to avoid disappointment.
US dollars. Regular mail delivery is included. Add $25 for next-day courier to any street address in the USA. Add $40 for courier to other countries. To order, use the registration form later in this document and choose "Manual Only".
---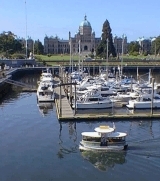 Victoria's inner harbor,
visited by 35,000 American
tourists each year.
In the foreground is one
of the city's water taxis.
Cover. Victoria is a world-renowned tourist destination. It is visited by more than 35,000 Americans each year. This provides cover for your visit. Only we know you attended – you'll leave no paper trail for the goons to find – and we've got a short memory.
Schedule. The workshops are scheduled to fit inside your weekend. You don't need extra time off to attend. You can arrive Friday evening or Saturday morning, attend all three workshops, and depart Sunday afternoon or evening. Victoria is accessible by ferry, aircraft, and bus.
Our role. It is important to realize that we are not security consultants. We are victims of surveillance just like you – and we are investigative journalists. We limit our discussion to how we handle situations ourselves – we also reveal leaked information – and we talk about suppressed information we have uncovered. You'll see and hear presentations, demonstrations, case studies, role-playing, and Q&A sessions from someone who understands the physical and psychological pressure you face as a target of surveillance.
The table below shows your itinerary for the STING weekend.
What
When
Comments
Arrival
Fri. evening or Sat. morning
Your travel options include ferry, bus, and aircraft. Email Vickie for a list of transportation schedules and recommended hotels.
Workshop 1
Sat. afternoon
1 pm – 5 pm
Includes a mid-afternoon refreshment break. Prerequisite – You must have the workshop manual. Contents – Introductory Level surveillance and countermeasures.
Break
5 pm – 7 pm
Use this time to freshen up at your hotel or try one of Victoria's many restaurants.
Workshop 2
Sat. evening
7 pm – 11 pm
Includes a mid-session break with snacks and refreshments. Prerequisite – Attendance at Workshop #1. Contents – Intermediate Level surveillance and countermeasures, as well as Introductory Level resistance tradecraft.
Workshop 3
Sun. morning
8 am – 12 noon
Includes a mid-morning refreshment break. Prerequisite – Attendance at Workshop #2. Contents – Advanced Level surveillance, countermeasures, and resistance tradecraft.
Departure
Sun. afternoon or evening
Your travel options include ferry, bus, and aircraft. Email Vickie for a list of transportation schedules.
---
| | |
| --- | --- |
| | The workshop presenter. Your workshop leader is Lee Adams, the driving force behind the Spy & CounterSpy website. Lee is a survivor of hostile surveillance and dirty tricks by numerous intelligence agencies and security services. Return to our home page and click on About us for additional background info. |
---
| | |
| --- | --- |
| | The workshop facilitator. Your workshop facilitator is Vickie Nickel, survivor of four years of 24-hour surveillance by US Naval Intelligence, and a victim of a frame-up by Soviet Military Intelligence. Return to our home page and click on About us for more about Vickie's background. |
---
Location. Victoria is wonderful in summer and fall. Warm, sunny, balmy. Even in winter it rarely freezes or snows here. The city offers everything from first-class accommodation to bare-lightbulb motels – the choice is yours. Whale-watching tours. Wilderness hiking. Upscale shopping. Horsedrawn carriage tours. Harbor water taxis. A vibrant night-life. To learn more, take a few moments and browse http://www.victoriabc.com.
NOTE – This is an external link, so you might want to bookmark this page before leaving.
IMPORTANT – When you
select our online form,
you'll see a caution about
the Site Certificate.
Be sure this message says
Web Communications (the
server in California that
hosts Spy & CounterSpy).
This is your assurance that
your information is being
securely transmitted by
encryption.
---
Date. The next workshop weekend is scheduled for January [SOLD OUT]th. You can reserve your place by ordering your manual. Click here for our secure online registration form.
SUBMITTING THE FORM – You can either submit the form online, or you can print the form and send it to us by mail or fax. PRIVACY – If privacy is a concern, you should consider using a cybercafe and an anonymous email account. Return to our home page and click on Be a whistleblower for tips. ORDERING ONLY THE TOOLKIT – If you're not attending the workshops, you can use the online registration form to order only the manual. [Sorry, current printing is SOLD OUT.] NO SHOWS – If you register for the workshops and don't attend, we'll consider your order "Manual Only" and we'll mail your manual to you.
Questions? To find out more about the workshops – and to get a list of hotels and transportation options – click here to send email to workshop facilitator Vickie Nickel at training@bc.sympatico.ca. Telephone 250-475-1450. Fax 250-475-1460.