...
...
...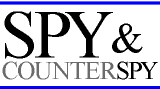 ...
...
What the FBI and IRS
don't want you to know –
Your hard disk is more
incriminating than a
daily diary if you fail
to clean it regularly.
Security software...
Updated October 22nd, 1998.
Copyright ©1998 Lee Adams. All rights reserved.
Why the authorities love your computer. Most people don't realize how easy it is to recover incriminating data from your computer. Even a local sheriff's department has software for snooping around your hard disk. Here's what they can do.
1. They can recover files you thought you erased.
2. They can recover files you thought were overwritten.
3. They can recover files created without your knowledge.
4. They can recover remnants of the Windows swap file.
5. They can recover names of Internet sites you visited.
6. They can recover your old email messages.
Secret temporary files. You probably didn't realize that every time you print a document, Windows writes a temporary copy to disk. It "erases" the file when it's finished, but an undelete utility can recover the file.
Secret swap file. Windows creates this file whenever memory gets tight. Investigators can often recover documents, data, personal information, and passwords from months ago. A binary sector editor can view the data in the swap file, often named win386.swp.
SECURITY TIP – Many notebook and laptop computers use a hibernation file to save the contents of RAM when the rechargeable battery runs low. You'll want to delete, shred, and recreate this file. For example, if you're using an IBM ThinkPad, look for a file named pm_hiber.bin, in addition to the Windows swap file.
Try it for yourself. See for yourself what investigators can find on your computer. You can download a free demo copy of Expert Witnesstm, a forensic data acquisition program for Windows 95 at http://www.guidancesoftware.com. This is the same software cops use. It's got a point-and-click interface that anyone can learn to use. It allows sector-by-sector viewing of your hard disk, including hidden files, previously "erased" files, the Windows swap file, unallocated disk space, and file slack (the space between the end of the file and the end of the cluster). The software provides a record of the chain of custody of the evidence (that's polite talk for the data on your computer). The software can even save your entire hard disk as evidence.
(NOTE: Spy & CounterSpy is not affiliated with this product.)
---
Protect yourself...
Spy & CounterSpy recommends that you take a methodical approach to sanitizing your computer's hard disk.
You may wish to consider downloading the following applications. Each is designed for use with Windows 95. Some of the names mentioned are trademarks.
(NOTE: Spy & CounterSpy is not affiliated with any of these products.)
Shredder: Shredder is designed to run in the background while you work with your personal computer. Shredder intercepts all disk accesses and completely wipes a file before allowing an overwrite. Shredder also wipes the Windows swap file at the end of each work session. This secures your system against undelete utilities and sector editors. You are safe from investigators who are using file slack recovery and Windows swap file readers.
SECURITY NOTE – It takes a much stronger magnetic charge to completely overwrite and obliterate a pre-existing charge. This is a polite way of saying that overwriting a file still leaves subtle magnetic traces of the previous data. Intelligence agencies and security services use magnetic force scanning tunneling microscopes to detect these traces. Shredder can protect against this threat. It can also protect you against investigators using an electronic microscope with spin detectors.
A very useful feature is Shredder's panic mode. If you're at your computer when the goons kick the door in, simply press your secret keystroke combination and Shredder instantly shreds a preselected list of sensitive files. Shredder will also get rid of any so-called history lists that your browser makes, as well as old email. You can download a free demo copy of Shredder from http://www.shredder.com.
HEdit: This hex file-editor is useful for inspecting the files on your hard disk. You can check both the hexadecimal and ASCII contents of any file, including the Windows swap file (named win386.swp on most systems). You can also use HEdit to alter the contents of any file on a byte by byte basis. To download a free trial version of HEdit, set your browser to http://www.yurisw.com/hedit.
File Vault: This freeware program is ideal for encrypting groups of files on your hard disk. It can also be used to create standalone self-decrypting message files that you can send to correspondents by email. File Vault uses the Blowfish encryption algorithm, which is resistant to NSA attack. Included with File Vault are the DiskWipe and FileWipe utilities. DiskWipe scrubs the free space on your hard disk. FileWipe permanently erases a file so it cannot be read with either an undelete utility or a sector editor. To download File Vault, set your browser to http://www.alcuf.ca/fv.htm. You can also download an encryption-enabled text editor called VGP from http://www.alcuf.ca/vgp.htm.
PGP: Pretty Good Privacy is a public-key encryption program that uses a combination of prime numbers and one-way math functions. When used correctly, it provides strong protection for your confidential documents and email messages. You can use it to encrypt files on your computer. You can use it to send encrypted email to recipients you've never met. Or you can use it to digitally sign your email so recipients can tell if it's been tampered with. PGP is available in a variety of freeware and commercial versions in standalone configurations or as plug-ins for various email programs and word-processors. The US government restricts the export of this and other encryption software outside the USA and Canada. If you're in the USA or Canada, you can download the freeware version of PGP version 5.0 from http://web.mit.edu.network/pgp.html. The commercial version of PGP version 5.5 is available at http://www.pgp.com. The online user's manual tells you everything you need to know. PGP's international download site is found at http://www.pgpi.com.
Sam Spade: This freeware program is – for all intents and purposes – a hacking toolkit. Its powerful features give you the power to trace the source of spam email (and others who may have forged the header of the email message). You can also ping every server in a domain, sweep for IP addresses, and track down server ports. Some of these functions are considered to be a crack attack by the server administrators. You can download a copy of this hacker's dream-tool from http://www.blighty.com.
RPK InvisiMail: This shareware program provides hands-free email encryption. It sits between your email software and your ISP. The software automatically exchanges public keys with any of your correspondents who are also using InvisiMail. Otherwise, it sends out your email as plaintext. Invented by an American cryptographer, RPK was developed in New Zealand, outside the prying eyes of the FBI et al. Hence RPK is not subject to any heavy-handed export restrictions (or forced inclusion of trap doors for use by US Government spooks). InvisiMail is based on the RPK mixture generator, whose exponentiation math is as strong as PGP's. The patent-protected algorithm is available for inspection. (They're offering a US$10,000 reward to anyone who can crack RPK.) You can download a free-trial version of InvisiMail from http://www.invisimail.com or http://www.rpkusa.com.
BCWipe: This is a freeware program that does three things. First, you can use it to permanently erase files so they can't be recovered by so-called undelete utilities. Second, you can use BCWipe to clean the free space on your hard disk. And, third, you can use it to wipe the Windows swap file on your hard disk. Wiping the swap file is important. Personal data and passwords from three months ago can still be sitting there. The FBI and IRS routinely recover a significant amount of evidence from suspects' swap files. To download BCWipe, set your browser to http://www.jetico.sci.fi/bcwipe.htm. Simply run the downloaded .exe file to install the software.