---

Welcome to my gallery page. I work as a graphic designer and have a degree in art. What we have here, initially, are a number of pictures I created when I began to use Adobe Ilustrator intesively as part of my job. The work I did for my employer was a series of black and white "line art" illustrations for use in co-operative advertising. I haven't included any of that stuff here because it's boring and doesn't fit in with the rest of the site. The initial pieces on display here were done for my own edification as a means of testing the possibilities of the tool I had been handed. Mind you, if anyone looking at these images is looking to hire an illustrator...well, feel free to get in touch with me and we'll talk.
---
---
Digital Betty:
I picked Betty Page as a subject matter because of an irrational attraction to the image of the good girl gone bad or the wholesome bad girl. She was photogenic as hell and lends herself marvelously to illustration--she was a walking, talking Vargas girl. Dave Stevens and Olivia de Baradinis have made extensive use of Betty's image and now I understand why.



| | | |
| --- | --- | --- |
| | | |
| Betty in Repose | Kitten with a whip | Grr-owlllll.... |
| | | |
---
| | |
| --- | --- |
| Since the main thrust of my web site is movies, I think it's only proper that I should have some movie images in here. Bogie here was created entirely in Adobe Illustrator. | |
---
| | |
| --- | --- |
| Another movie image. Lulu, this time. If there is a silent actress who appeals more to my libido and aesthetic sensibility than Louise Brooks, I don't know who it is (Garbo is close..). Like Bogie, this was created in Adobe Illustrator. | |
---
| | |
| --- | --- |
| Still another movie image. Ingrid Bergman is my favorite actress from the sound era and makes an excellent companion piece to Bogie. This was created in Adobe Illustrator. | |
---
| | |
| --- | --- |
| I'm not exactly a fan of Audrey Hepburn, though I like her in a number of movies. She was fun to draw, though. This was created in Adobe Illustrator and was an excuse to play around with some of the features I don't normally use. I like how it came out. | |
---
Ah, Bela...Finally some horror imagery here, inspired in part by the great horror illustrator Basil Gogos, who did so many covers for Famous Monsters of Filmland. Mind you, this doesn't look much like a Gogos, but I imagine that the working methods are the same. The reference for this is a studio still Bela Lugosi from The Mark of the Vampire (I think--it might be The Return of the Vampire, but it's definitely not from Dracula). Now I need to do a Karloff as a companion piece.

This was created in Adobe Illustrator.
---
This piece was done for the late lamented Big Lizard Video, a business experiment and fiasco I was involved with a few years ago. This was to be one of those slides that movie theaters show between features. I quite like the piece. It's nothing but fun. It's pen and ink and watercolor on Bristol Board and was...um...inspired by the great comic book artist, Berni Wrightson. I apologize in advance for the width of the image.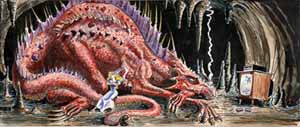 ---
---